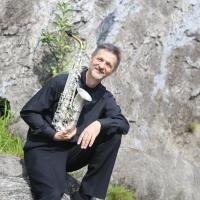 Dariusz Samól
Professor Dariusz Samól, D.A., Habil., is a graduate of the Professor Ed Bogaard's class at the Lemmensinstituut (Leuven, Belgium) and of postgraduate studies with Professor Mieczysław Stachura at Wrocław's Academy of Music.

Samól is Head of the Chair of Wind Instruments, Accordion, Guitar, Harp and Percussion at Szczecin's Academy of Art. In 2015-2016 he was a guest professor at China's Zhaoqing University. As an instrumentalist he has also taught masterclasses in the United States, China, and Europe. His students have frequently won top prizes in international competitions worldwide.
He has been the initiator of several ensembles, including The ArtSax Duo, Impression Saxophone Ensemble, and Inventia Trio. He has premiered several dozen new works by Polish and foreign contemporary composers, including George Andrix, Sy Brandon, Artur Cieślak, James DeMars, Jaromir Gajewski, Piotr Grella-Możejko, Alicja Gronau, He He, Marek Jasiński, Zhong Juncheng, Grażyna Pstrokońska-Nawratil, Marilyn Shrude, Edward Sielicki, Janusz Stalmierski, and Andreas van Zoelen.
Samól is also the author of saxophone transcriptions of works by Polish composers of various eras, such as, among others, Adam Andrzejowski, Fryderyk Chopin, Nicolaus Cracoviensis, Karol Szymanowski, Henryk Wieniawski, Tadeusz Wroński, and Władysław Żeleński. He has recorded three albums of Polish music, and authored books and papers on saxophone music (including Saxophone Music by Polish Composers. Selected Works, in Polish and English; Saxophone Music in the Works of US Composers of Polish Origin; Adolphe Sax and Saxophone Music in the Nineteenth Century).
The artist has given performances in Asia, Europe, and North America (USA), both as a soloist and chamber musician.
He is the artistic director of music events: the International Saxophone Festival in Szczecin, the 'Étude' International Festival, and Convergent Points Festival.